I'm not REALLY a Superhero; I just play one on T.V.
From Jim Bliss, that very mysterious young man in London:
(You can read all about his doomsday prophecies
here
)
The Superhero Meme
1. If you could have one superpower, what would it be and why? (Assume you also get baseline superhero enhancements like moderately increased strength, endurance and agility.)
I would like the power to cloud and control men's minds.
This would enable me to amass a vast loinclothed army of servants who will do my laundry, wash my dishes, tell me how beautiful I am, vote against the Republican party, and cook exotic gourmet dinners. Plus, that sort of thing could come in handy if one is looking for cheap and meaningless sex, which of course
I
wouldn't do, that's very bad, and really, I'm just saying
if.
However, the baseline superhero enhancements such as moderately increased strength, endurance and agility would also come in handy for that sort of thing. I'm just
saying
.
2. Which, if any, 'existing' superhero(es) do you fancy, and why?
Wolverine, Spiderman and Catwoman. I think those are self-explanatory.
3. Which, if any, 'existing' superhero(es) do you hate?
I loathe Supergirl in the most completely heartless manner you could ever possibly imagine; she's insipid, plastic, and far too perky for her own good.
4. What would your superhero name be? (No prefab porn-name formulas here, you have to make up the name you think you'd be proud to mask under.)
Every time I try to think of a SuperHero name, I can only come up with SuperVillain names instead. And really, I would much rather be a SuperVillain because:
A.) plotting revenge is fun
B.) why should we waste all the good technology on science and medicine?
C.) I can't be good ALL the time
My SuperVillain name could be something like
The Malevolent Iron
Queen
or perhaps
The Nefarious SuperVixen.
I was totally going to choose something like "Pat Robertson" or maybe "Paris Hilton", but those names were already taken.
I would wear a shiny black catsuit with a glittery utility belt, mask and dangerously pointy boots. Thousands of evil henchmen would be at my beck and call, and my signature weapon would be the ZS-4500 Super Kill-O-Zap Ray Gun with sniper accessories. My lair would be in Washington D.C., because that's where all the fashionable SuperVillains live these days.
5. Is there an "existing" superhero with whom you identify/whom you would like to be?
From strictly a fashion standpoint, I really have to choose Batgirl, who is quite svelte and wears adorably slinky little catsuits and shiny capes. Also, her boots are smokin' hot, and she has enough room in her utility belt for mints and chapstick. Not only that, but her mask always makes her look slightly confused, which describes me most of the time. Just the other day I accidentally drove to Tarpon Springs while trying to reach an appointment on Bearss Avenue. Although I'm not as bad as
my brother
, I have also been known to completely space out on things like the day of the week, people's names, my telephone number, and whether or not I am, in fact, due at a meeting in five minutes.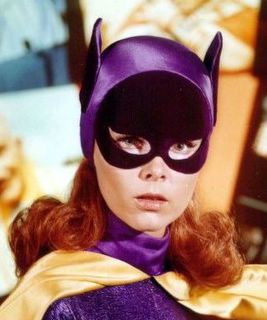 To be honest, though, I really just want to be Darth Vader.
**********************************************
Tomorrow on Random_Speak: Finding Self-Fulfillment and Joy While Cleaning!
(Same bat-time, same bat-channel)