Love Is In The Air...
(I had a really riveting post previously, but the text mysteriously disappeared.... and when I tried to add it back, it deleted the comments!). So don't blame me for the extraordinarily lame post below; blame a bug instead.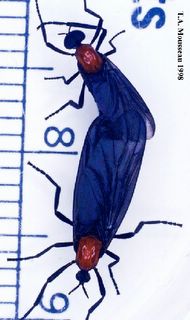 I do remember that I said something incredibly moving about Love being in the air these days, as thousand of tiny Love Bugs fly and enthusiastically copulate in my neighborhood-- and it's not even the main season for them yet. These romantic little bastards splatter all over car windshields and grills, get stuck in cyclists' teeth, and generally make a raging nuisance of themselves during mating season. Then I inserted some witty comments and allusions about their sexual proclivities, but damned if I remember. I would have received hundreds, if not thousands, of adoring comments regarding this sexual hazard on Florida's highways, but I am WAY too lazy to really do anything about it now.
Screw it-- I'm going to Italian class!