Taxes, Budgets, Shredders And A Houseguest
I have been posting somewhat sporadically this week, due to a houseguest leading me astray in a terribly irresponsible manner.
However, unlike my
brother
, I did manage to complete my taxes before the April 15th deadline. I am one of those poor, deluded souls who actually tells the unvarnished truth on my tax form; if this were widely known, I would be regarded with a great deal of suspicion as to my undoubtedly communist and dangerously un-American tendencies. To make up for this I procrastinate as long as humanly possible, just like every other red-blooded patriotic American.
Luckily, we are now only required to send in small vials of blood and our left thumb, which is quite a bit more convenient than the traditional arm and leg. I did waver a bit over deductible items and business-related expenses, however. Should I or shouldn't I deduct those adorable little outfits I occasionally wear to work? Should I deduct alcoholic beverages as they could be considered medical expenses? And should I account for beauty products as legitimate professional expenditures? Anyway, I shouldn't quibble over details. What's truly important is that our government receives as much money as possible in order to best purchase even more bombs, as well as to fund programs that tell poverty-stricken Africans not to use condoms.
After completing my taxes, I decided to create a little budget based on the prior year's activities. As you can see,
misc.
comprised the majority of my expenditures. To the best of my knowledge,
misc.
seems to be mainly things like cotton balls, trashy magazines and lipstick.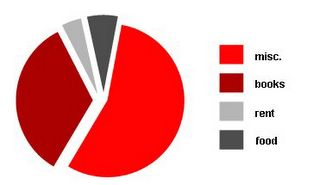 The whole budgeting thing was a bit vexing, so I decided to just sit around using my paper shredder, which is highly addicting. It cheerfully warns me not to shred a) paperclips b) neckties or c) my fingers -- which is rather fortunate, or who knows what sort of havoc I might wreak? So instead of wreaking havoc, I spent a rather pleasant twenty minutes just shredding old receipts and credit card offers; I love shredding; it's a bit like popping bubble wrap, so I had to stop myself before I shredded everything. It's my favorite Christmas present ever; when I received it I spent ages just shredding everything I could find; in fact, it's calling my name now...