The Weather Is Beautiful; Wish You Were Here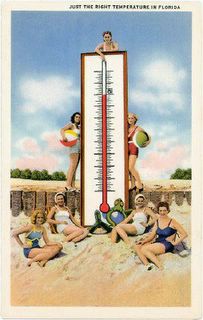 To-day had absolutely perfect weather. It's really too bad that I HAD TO WORK.
I shall be frolicking on the beach soon enough, however.
The question is: should it be a.) glamorous movie star one-piece with fabulously oversized hat and sunglasses, or b.) itsy bitsy teeny weeny yellow polka dot bikini? It's rather a perplexing problem.
However, we do not enjoy trying on bathing suits under flourescent lighting, and we also do not enjoy real or fake tanning; in fact, we happen to glow in the dark. And apparently we are also no longer capable of referring to ourselves in a manner other than that of the Royal Plural. How tiresome.
We are going to bed now.