What Do I Want To Be When I Grow Up?
After hours upon hours of staring at computer screens I am beginning to wonder: Shouldn't I be feeling just a teensy bit angsty over all this? Should I blithely continue to work for "The Man", whoever he is, or become embittered and horribly poor while pursuing the job of my dreams?
I've toyed with the idea of becoming a professionally starving artist, but I don't fill the chainsmoking and strange hair requirements; not only that, but have you ever tried locating an unheated garret? They're just not available these days. Plus, starving artists have to pick out some sort of vaguely fashionable persona. I can't decide between being a drugged-out- neo-pacifist- flaky-vegan starving artist or a pseudo-intellectual -nouveau-feminist- postmodern starving artist.
Now that "starving artist" has been discarded, just what sort of dream job should I choose? No one seems to pay very much for just sitting around eating berries and watching kung fu movies all day...
1.
Exotic Balinese Dancer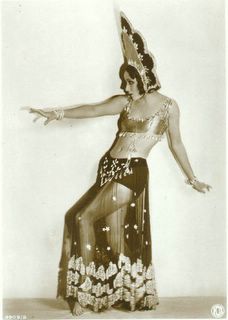 Pros
: This career path scores very high on the glam-o-meter, and I am definitely skinny enough to easily slither around a stage in adorable outfits.
Cons
: I am not actually Balinese.
2.
Magician's Assistant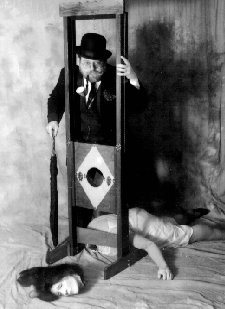 Pros
: This type of career would enable me to travel and meet a large variety of people while standing around and looking decorative.
Cons
: I lose my head easily in stressful situations.
3.
Carnival Ride Operator
Pros
: While the monetary compensation is minimal, I would get all the funnel cakes and fried twinkies I could eat.
Cons
: I have no tattoos.
4.
Recreational Therapist for Psychiatric Hospital
Pros
: I would feel personally fulfilled while dancing and playing games with patients to sharpen their cognitive and motor skills.
Cons
: My own motor skills are actually not very good (**I flunked hopping on one foot in kindergarten), and I might be confused for one of the patients.
5.
Pet Photographer
Pros
: This career would enable me to develop my creativity and interpersonal skills while dressing small animals in charming little outfits.
Cons
: I am deathly allergic.
** This actually happened; it was my very first 'F'