'Tis the Season...
As I am still a bit upset over the whole breakup situation, I am probably in even greater danger of going daintily berserk than ever before. After all, everyone's been playing Christmas music
since the day after Halloween.

Between trying to stay perky and driving past enormous inflatable snowmen and lightup reindeer day after day after day after day, I am now so Jolly that I may jolly well do something drastic!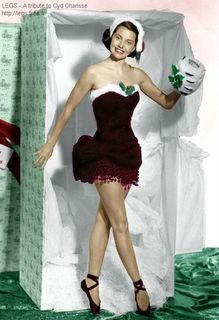 Outdoor Christmas decorations have become so over the top this year, that I seriously fear we shall soon see a shortage of glitter and vinyl. The sheer number of lights are now vying for top position on the list of contributors to global warming.
Will this madness ever end?!!?


Uh... that being said, I've decided to compose a nice letter to Santa this year. I do feel that I deserve a little something special!
Dear Santa,
How are you?
Lost any of that weight?
I haven't killed anyone yet
I am fine.
Although I may have been rather naughty, I am quite sure that you can look the other way this year.
Everyone says that I have been Terribly Good ALL year. I have been trying very, very hard.
In fact, every day, I deliberately do NOT run over this really, really annoying person in the parking lot
.
I always say "please" and "thank you", and I
hardly ever tell anyone to "fuck off!"
try my very best to be a Good Citizen at all times. What I really want most for Christmas is
millions and millions of dollars
World Peace. If you can't bring me that, I would like this sort of musical instrument I saw in the shop window the other day. It's long and straight, and it's called a pico-something... pico.. picol... uh... gigolo. Yeah. Can you get me one of those if it isn't too much trouble?

Some additional
Loot
things
I would like:
1. a pony
2. champagne
3. a new enormous hat
4. trained monkeys
5. an entourage
6. a luxury vacation to Aix-en-Provence
7. a personal masseuse
8. my very own petting zoo
9. a real tiara
10. mother-of-pearl opera glasses

I thought of some additional things, so I shall send you a convenient addendum later.

Hugs and Kisses!!!

L