Some Funny Old Postcards I Found...
I found these while puttering around in an antique mall a couple of weeks ago.... click to enlarge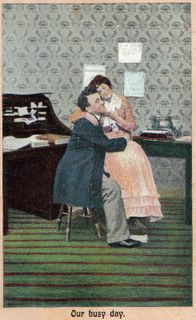 The date on them appears to be 1907, and one of them has a charming (sinister?) little note:
"Dearest Cousin,
I received your welcome letter. Will be delighted to come after you and Mabel if the weather is favorable. It will be some time on Saturday I think.
Good bye.
Lella"
I certainly hope that "come after you" doesn't mean what it means today.
Old letters and postcards are so funny -- So far my favorite one was written by a soldier during World War I. In it he assures his sweetheart that she needn't worry about him "falling in love with a beautiful nurse" as he remains "disgustingly healthy".
Labels: postcards