Interpretive Dance: The Scourge Of Our Times
Before I contracted this horribly annoying illness, I actually had a life; I dined out; I chatted with friends; I even went to see a local production of
Machinal
, which is loosely based on the 1927 murder trial of
Ruth Snyder
.
The play was fairly well done with groovy little modular sets, clangy sound effects, a vaguely feminist theme, adorable costumes, and only a certain amount of over-the-top melodramatic acting (we are naming no names).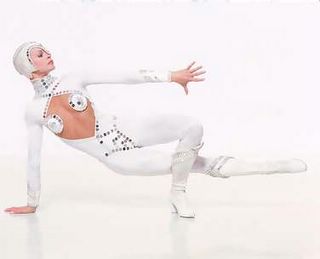 However, the finale was unfortunately infiltrated by a baffling "interpretive dance" number, which made absolutely
no sense
in the general context of the play. Actually, interpretive dance
never
makes sense in any sort of general context. It's even rumored to be some sort of diabolical plot by the French.
The various actors contorted themselves and bent various body parts interpretively, picking up the star so that her crotch would be prominently displayed at all times. They swooned collectively to one side so that the left half of the audience could get a proper spread-eagled view. Then they swooned collectively to the other side so that the right half of the audience wouldn't miss this exciting body part. As an added precaution, the cast then sagged languorously towards the center so that The Crotch was carefully shown with a reverence not usually seen by those unfamiliar with the oeuvre of Jenna Jameson.
I fear that the entire experience extensively damaged my entire immune system-- just another example of the serious menace that interpretive dance poses to our society. This menace has not only wormed its way into otherwise respectable plays, but has also been seen on television, in movies and
in schools across the nation.
Not only was I, a modest young person, exposed to this traumatic experience, but frequently so are innocent
children
! Not only has interpretive dance been shown to damage the immune system, but it is also suspected to be a leading cause of violence and mental illness-- do we really want to expose children to this?
There is no excuse for forcing upright citizens to view such horrors of the liberal arts, especially when the interpretive dance isn't really interpreting
anything
beyond crotches, armpits, crotches and genitalia.
I feel quite sure that it's a precursor to a hideous Mime Invasion, but it may already be too late to stop.
Our culture indeed has slid far into the abyss.