Another very special post on odd art!
As it's been a little while, I thought I'd inflict another scholarly art critique on whomever is irresponsible enough to be reading useless blogs at this late hour. Don't you have a job or something?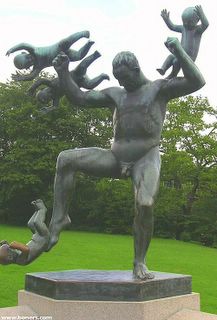 Outdoor sculpture -- Title unknown, artist unknown
Some critics maintain that it is difficult to enter the metaphorical narrative of this sculpture due to its esoteric symbolism and incohesive content; others contend that this difficulty is mainly due to the dilemma of having to dodge the perplexing amount of flying babies that seem to be emanating from this piece. And, while the figures exhibit a clean purity of line and an eloquently simple resonance of form, one must ask: what the @#%!!???
Of course, it's quite obvious to all but the most uneducated that this artist has issued a vibrant proclamation, a stirring call to arms, and a searing indictment of
something
. If you have to ask what this means, however, we certainly can't be bothered to explain.
* additional odd art posts may be found in the drop down box under my avatar
** image pulled from boners.com
Labels: flying babies, odd art, WTF?